Spring Jewelry Trends from the runway
Spring 2023 Jewelry Trends That Can Transform Your Style in a Minute (or Less)
We'll all be wearing these earrings and necklaces soon.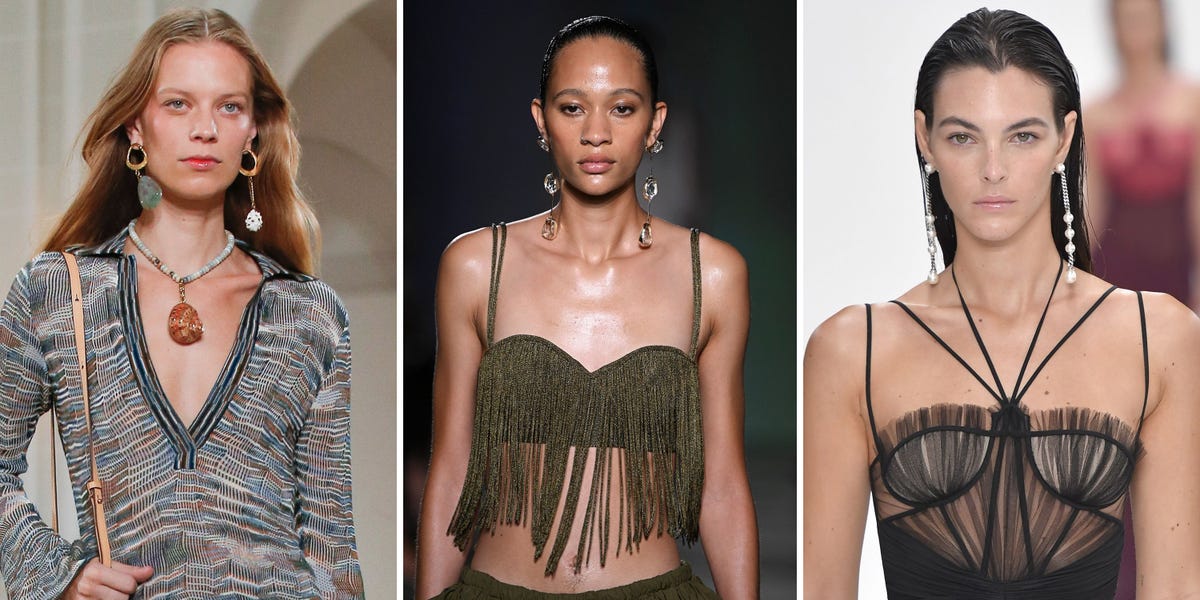 GETTY IMAGES
Jewelry is often the last thing you put on before you walk out the door. The addition of a stack of rings, a collection of chunky necklaces, or even a pair of statement earrings can cement the vibe you're going for on any given day, without the need for much more accessorizing. This past fashion week, the spring 2023 jewelry trends included both the casually quirky and the over-the-top elegant. The gamut of gold and gems, if you will.
On the more casual end of the spectrum, there are the straight-from-the-estate-sale beads and shells, which feel like a continuation of the larger craftcore trend that's continued to cycle through the last two years. They're the everyday earrings and necklaces that you can easily throw on for a grocery run or quick catch-up with a friend. On the fancier side of things, designers like Proenza Schouler and Nensi Dojaka made the case for styling eveningwear (namely slinky black dresses) with nothing but a pair of long, dangling earrings.
 If there's anything last season's runways taught us, it's that you can't have too much jewelry.
Here is a Spring Trend Breakdown - follow the blog for the details and photos of the others
1- The shoulder grazing earrings
the long gorgoeus earrings are a statement maker of their own and take center stage
2- The bold cuff - the bold cuff bracelet is a favorite  
3- the statement watch, the bold elegant watch is a spring staple, add bracelets to it and you are perfectly spring - we love adding our Hamsa stretch bracelet to our watch
4- not your grandmothers pearls - we at Mina D Jewelry have been using pearls in a modern way in every collection, whether the classic white or gorgeous color
5- Stone on a rope - the simple yet bold look of a semi precious or natural stone pendant on a corded or leather rope necklace is all the rage on the runway, at Mina D Jewelry we have several options to choose from, whether you like the bold bright stone or something subtle like black and white - our newly released travel collection has just the piece for you 
The Spring runway recap in a nutshell is - GO BOLD, COLOR IS IN 
Happy Spring everyone !